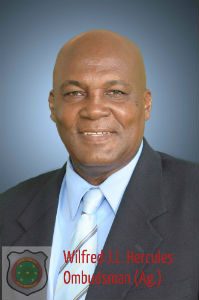 Mr. Wilfred Hercules has been appointed Acting Ombudsman of Grenada effective July 2013. Mr. Hercules attended the St. George's R.C. School; the Grenada Boys Secondary School where he obtained GCE O-Levels and represented the school team in both athletics and football. He also attended the Barbados Community College where he studied Advanced Levels in Law, Economics and Accounting.
Mr. Hercules is also in receipt of a Trained Teachers Certificate, endorsed by UWI and taught at his primary Alma mater for eight years. In 1986, Mr. Hercules was transferred to T. A. Marryshow Community College (TAMCC) to introduce A-Level Accounting and Management of Business, with the aim of getting students to pass and become O-Level Accounting and Business teachers at the secondary schools throughout Grenada, Carriacou and Petite Martinique. This he regards as one of his many achievements.
In 1996, he left TAMCC to work at the Ministry of Finance as Senior Accountant in charge of Projects.
Mr. Hercules, a married Catholic, possesses a BSc degree in Accounting (UWI), Post Graduate Finance (University of London), professional qualifications CIPFA and ACCA (UK). He is an experienced lecturer in Financial, Managerial, Cost and Management Accounting, both private and for UWI external studies, for over twenty-five years.
Also a past CXC Accounting Examiner for over twenty years. He worked in the public service for many years as Internal Auditor and acted as Accountant-General and Director of Audit. He is an experienced Director on many State boards including Marketing and National Importing Board (MNIB), Grenada Cocoa Association (GCA) and Public Tenders Board for over twelve years.
In addition, he is a specialist in Procurement, Taxation (VAT), Auditing, Project Management, Analysis and Appraisal. His previous appointment was Investigations Officer in the Office of the Ombudsman.